Michelle Jones
President, CEO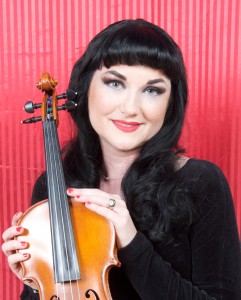 Michelle Jones is a versatile instrumentalist who performs every style from the most challenging classical music to the heaviest metal and rock music. She plays a variety of violins and violas to achieve these styles, and performs regularly on some of the world's greatest stages. Michelle is the President and Band Leader of Violectric, Inc., a string ensemble with live percussion that plays exclusive arrangements of classic and modern rock music on acoustic-electric instruments. Violectric performs compositions from AC/DC to Metallica to Led Zeppelin, and has appeared, recorded and toured around the world with most every major name act in the business from opera to heavy metal.
Michelle has performed in some of the world's most prestigious venues, including several Chinese theatres. In China, she performed in the People's Hall of Congress, Poly Theatre and XinShiJi Theatre in Beijing, Shanghai Grand Theatre and Shanghai Oriental Arts Center in Shanghai, Shenzhen Concert Hall in Shenzhen, Suzhou Grand Theatre in Suzhou, Ningbo Grand Theatre in Ningbo, Dr. Sun Yat-Sen's Memorial Hall and Guangzhou Arts Center in Guangzhou, Hubei Theatre in Wuhan, and Hangzhou Grand Theatre in Hangzhou.
Through Violectric, Mrs. Jones created and established an Educational Programs Series with interactive workshops and live concerts with students, and has performed multiple concerts at the Shekou International School in Shekou, China, Osceola County School for the Arts in Kissimmee, Florida, and Full Sail University in Winter Park, Florida. Violectric will be returning to China in 2012 to continue live performances and educational programs throughout the country and its territories.
Michelle also performs regularly on violin, viola, 5-string, vocals, keyboards and percussion with the international touring group Classic Albums Live based in Toronto, Ontario. With Classic Albums Live, Michelle has performed in the world-famous Massey Hall. She has been with this group over six years, and enjoys recreating albums note for note, cut for cut with some of the most talented musicians in the world. Their recreations of albums by artists such as The Beatles, Pink Floyd, Rolling Stones, Aerosmith, The Who, David Bowie, and many others have been critically acclaimed by concertgoers around North America.
With many years of musical experience, Mrs. Jones is an accomplished violinist and violist that has performed with numerous symphony orchestras in the United States, and continues to tour professionally with artists, including Josh Groban, Anne Murray, Sarah Brightman, Bernadette Peters, Manhattan Transfer, Michael MacDonald, Art Garfunkel, Mannheim Steamroller and many others. She is currently performing with several orchestras, including the world-renowned Mantovani Orchestra and Walt Disney World Orchestra.
Michelle has been involved in educating students of all ages for over twenty years. She has served as an Adjunct Professor of Music at Converse College, Professor of Violin Studies at Suzuki Institute of Maitland, Director of Music for Windermere Community Church Preschool, Director of Music for Holy Family Catholic Church and School Early Education Center, and Music Instructor at Windermere Academy of Music. She also hosts master classes within the Central Florida public and private schools, and is frequently requested as a guest lecturer at many colleges and universities throughout the United States. Mrs. Jones currently is the owner of Strings Etc., a private studio providing music instruction for theory, arranging, and composition, and on various instruments, including violin, viola, piano and keyboards. She also is a certified facilitator of educational programs worldwide at the Walt Disney Company through the Youth Education Series and Disney's English Language Programs.
As an active member of the American Federation of Musicians of the United States and Canada, Michelle is an international delegate and serves on the International Musician Committee and the Good and Welfare Committee, and is the former chair of the Youth Diversity Committee. She is also an active member of the Central Florida Musicians' Association where she serves on the Recording Committee, Diversity Committee and Executive Board. She also chairs the Youth Committee and co-chairs the Contractors' Committee.
Michelle has studied with several renowned instructors, including Dr. Irene Grau, Dr. Rachel Vetter-Huang, Dr. Henry Janiec, Dr. Jerri Lucktenberg, Dr. George Lucktenberg, Mr. Alfons Carlo, and Dr. Ayako Yonetani, just to name a few. She has performed under the baton of many famous conductors, including, but not limited to: Richard Hayman and Keith Lockhart from the Boston Pops, Arnie Roth and Chip Davis from Mannheim Steamroller, Victor Borge, Marvin Hamlisch, David Effron, Dr. Henry Janiec, Derric Johnson, and Barry Knight and Charles Ellis from the Mantovani Orchestra. Mrs. Jones holds degrees in music and business, and enjoys sharing her knowledge of both subjects with aspiring musicians.