Press
This is a selection of articles and videos featuring Violectric Education Programs in the news and on TV.
Good Day Orlando – WOFL Fox 35
December 7, 2017
Violectric performed on Fox35's Good Day Orlando promoting the 5th Annual Violectric Holiday Show benefitting the Pet Alliance of Greater Orlando.
Orlando Style Magazine
December, 2017
Band leader Michelle Jones is interviewed in the December issue of Orlando Style Magazine.
Mix 105.1 Community Connection
November 26,2017
Violectric was interviewed with Pet Alliance about the 5th Annual Violectric Holiday Show at Lake Eola.
Violectric appeared as the musical guest for ToKnight's the Night on UCF TV (University of Central Florida).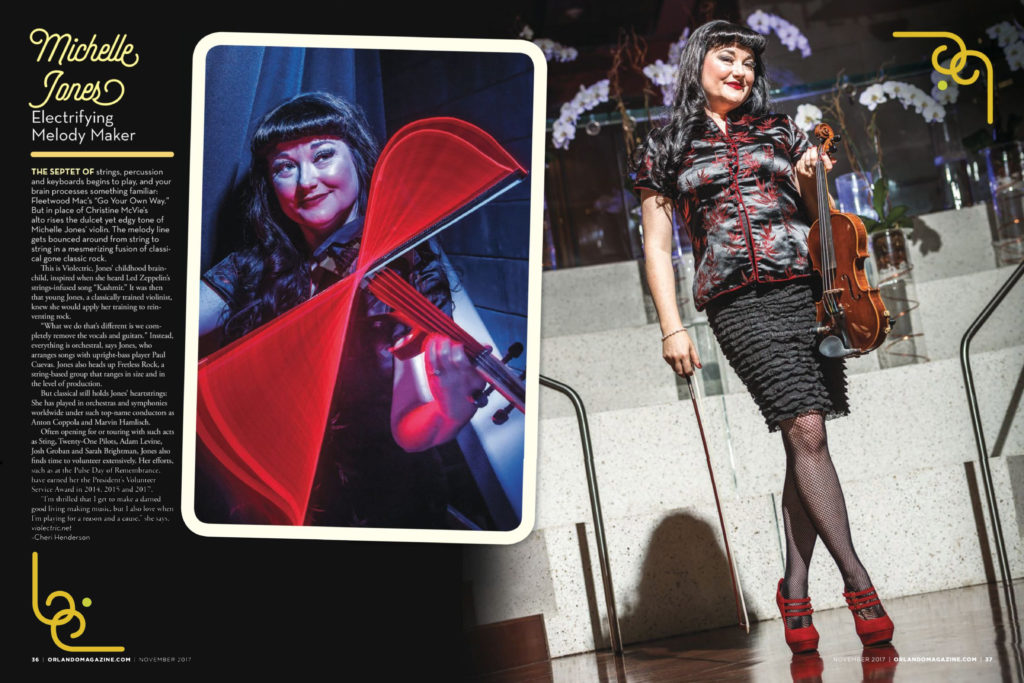 Band leader Michelle Jones featured in the November 2017 issue of Orlando Magazine.
Violectric Education Programs were covered on WUCF PBS Channel 24 in Orlando in April 2015 and has been rebroadcast nationally on PBS and Internationally on the BBC.
Violectric was interviewed on Fox 35 Orlando during a program at Bridgewater Middle School.
Band leader, Michelle Jones, received the 2013 and the 2014 Gold President's Volunteer Service Award from President Barack Obama.