Paul Cuevas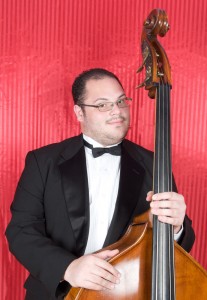 Upright bassist, composer/arranger, and tenor Paul Cuevas began his musical training at the age of 4 under his grandfather. Continuing this training through his graduation from the Visual/Performing Arts Magnet program of Dr. Phillips High School, Paul now attends Stetson University, studying bass under John Wieland.
Studying in a music theory and keyboarding regiment based on that of the Masters and Doctoral programs of the Eastman School of Music, Cuevas has a knowledge of traditional and atonal music theory. Mr. Cuevas has also been a student of composition under Manuel DeMurga, gaining a knowledge in compositional forms and techniques. With this training, Paul has also mastered the various music recording and notation programs, including Finale, Sibelius, Garage Band, Logic, and Pro Tools.
Mr. Cuevas has composed a vast number of pieces for the orchestral, choral, and chamber settings, which have been performed throughout the Orlando area. His works include a Requiem Mass (2008) for S.A.T.B. soloists, choir, and orchestra, concerti for Violin and Contrabass (2006, 2008), a String Quartet (2007), and numerous art songs and small choral pieces (2008-2011). Currently, Paul is working on composing another Requiem, for Soprano, Mezzo Soprano, Harmonium, and Piano, a Divertimento for Flute and Piano, and the beginnings of his first symphony.
As a performer, Mr. Cuevas has performed in multiple ensembles, including the Florida Symphony Youth Orchestra and the Stetson Symphony Orchestra. He is currently the principal bassist and an arranger with Violectric, a string ensemble with keyboard and live percussion that plays exclusive arrangements of classic and modern rock music on acoustic-electric instruments. Violectric performs compositions from AC/DC to Metallica to Led Zeppelin, and its members have appeared, recorded and toured around the world with most every major name act in the business from opera to heavy metal.